Top 10 Spring Experiences to Enjoy During Your Stay at the Fern Lodge
Plan your Adirondack getaway this spring, centering your romantic trip around our luxury Adirondack lodge. Long weekend getaways in New York don't need to be limited to summer or winter trips!  There are so many unique things to do in the Adirondacks close to the Fern Lodge, including in the spring, and we list our top choices for couples below.
1) Whitewater Rafting
Take a guided whitewater rafting trip down the majestic Hudson River for a truly memorable Adirondack experience. There are many highly rated whitewater rafting outfitters in the Adirondacks, and one of them close to us is Beaver Brook Outfitters, just over 20 minutes away in North Creek.
Lunch and gear are included with their Hudson River rafting day trips, the journey is about 17 miles long, and the rapids can range from Class III to Class IV, depending on the time of year; spring is usually prime whitewater rafting time with rushing rapids. We can take care of making the reservations for you!
2) Horseback Riding
Horseback riding in the Adirondacks is on many couple's bucket lists, and we're fortunate to be only 10 minutes away from Circle B Ranch, also in Chestertown.
Their guided horseback riding options include the Beaver Dam Trail, which takes about an hour, or the Circle B Mountain & Valley Trail, about two hours. In addition, they offer 30-minute carriage rides around Friends Lake.
Head to Main Street Ice Cream Parlor (open year-round!), under 10 minutes from Fern Lodge and Circle B Ranch, for a sweet treat after your romantic ride through open fields and woods.
3) Brewery Tour
Create an Adirondack itinerary around stops at various breweries and cheers to the two of you. We suggest:
And then these three, about 45 minutes away in Glens Falls:
4) Day Trip to Lake Placid
After you enjoy a private breakfast from our Chestertown, NY bed and breakfast you can drive just one hour north to Lake Placid, home of the 1932 and 1980 Olympics. You'll find a multitude of activities to enjoy together here: window shop down Main Street, stop for a bite to eat at Lisa G's (try the calamari!), tour the Olympic Center, go to the top of the ski jumps, or check out the luge or bobsledding.
Save room for a piece of pie at the Noon Mark Diner in Keene Valley on the way back!
5) Fly Fishing
Fly fishing, a classic Adirondack activity, is a specific type of fishing where you use a fly rod with a specialized weight line and an artificial fly to catch fish; it requires different techniques than bait casting. We can help arrange a personalized experience for you with a professional in a unique, picturesque water location customized to your skill and comfort levels.
6) Shopping
Shop 'till you drop at the multitude of outlets at Exit 20. The Lake George Outlets actually comprise four separate shopping centers, and include top notch brands like Coach and Vera Bradley, as well as camping gear and Adirondack-type souvenirs at Artie's Camping & More; there's also a bookstore, and a variety of other shops and stores.
If you prefer the more rural, independent options check out Hudson River Trading Company in North Creek or Panther Mountain Traders right here in Chestertown.
7) Walking, Hiking, or Snowshoeing
Did you know we're one of the best places to go snowshoeing in the Southern Adirondacks for couples seeking seclusion and romance? We offer private trails on-site for an intimate experience you can access right out our front door. There very well may be snow during your Adirondack spring vacation, and we have snowshoes available for guests!
Otherwise, bring your hiking boots and prepare for an authentic Adirondack hiking experience in the spring – which includes mud if not snow; mud season typically runs through June. Hikers should always walk through the mud, not around it, to protect trailside vegetation and to avoid widening trails.
Pictured above is a sunset view from Stewart Mountain, under 10 minutes from us here at the Fern Lodge. After your hike, you might relax in our Adirondack lodge hot tub!
8) Foodie Tour
Love food? Who doesn't? If you're visiting in late spring you can check out the Chestertown Farmers Market for fresh produce and other local goodies. We also suggest Barkeater Chocolates (sometimes they have special events or classes going on, and they're 20 minutes away in North Creek) and Nettle Meadow Farm & Artisan Cheese (35 minutes away in Lake Luzerne).
9) Day Trip to Glens Falls
Walkable downtown Glens Falls has it all: restaurants offering everything from Mexican to sushi, two theaters with live entertainment year-round, boutique shops with unique finds, and a robust public art scene, with painted electrical boxes, murals, plus galleries, including inside the Crandall Public Library.
Speaking of art, you can't go to Glens Falls, just under 45 minutes away from Fern Lodge, without making a stop at the Hyde Collection. This art museum and historic house is home to a permanent and rotating exhibitions you don't need to be an art buff to appreciate. Museums are also a great plan for this time of year, just in case you experience some of those spring showers! Stop by the Chapman Museum as well to learn about the history of Glens Falls and Queensbury.
10) Golfing
There are numerous golf courses in the area for couples looking to get back into the swing of things this spring – once the snow melts away, of course!
Here are five great ones:
*Pro tip: Green Mansions Golf Club has indoor activities like darts and a pool table for those rainy spring days.
Whatever your springtime adventures, you can be sure to return to this Adirondack B&B with a jacuzzi and in-room fireplaces to keep cozy on cool spring evenings.
Learn about winter activities close by >>
See summer adventures in the vicinity >>
Find fall pastimes near Fern Lodge >>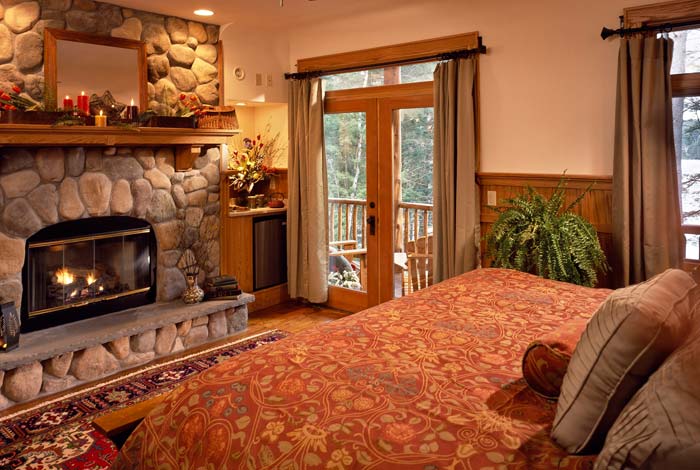 Guest Rooms & Rates
Our luxury Adirondack lodging includes a choice of five intimate guest rooms that are uncommonly comfortable – both rustic and elegant.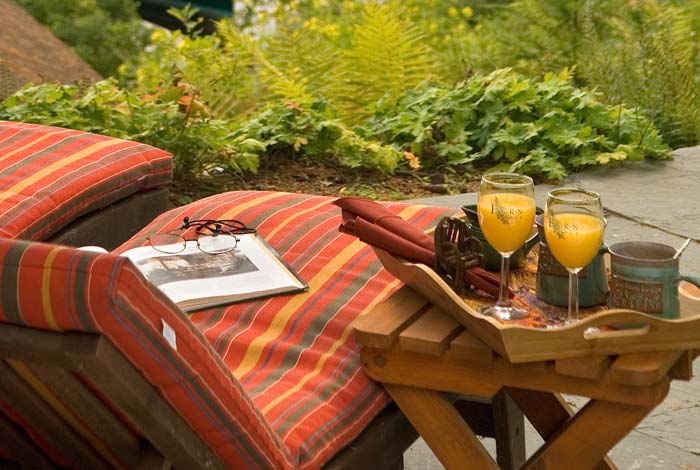 Rave Reviews
Read just a few of our many guest reviews. We are happy that our guests enjoy our Adirondack lodge as much as we do.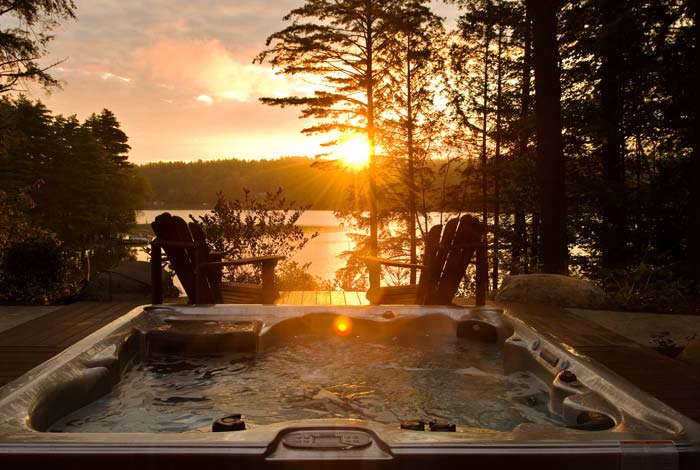 Summer / Fall Packages
Relax and enjoy Adirondack lakeside living this summer with the stunning beauty of the rustic surroundings.