The Fern Lodge: Rooms, Rates & What's Included at Our Adirondack Luxury Resort
Our luxury Adirondack lodging includes a choice of five intimate guest rooms, each of which exude luxury, comfort, and romance. The nightly rate for our guest rooms includes all the following (then scroll down to see info on individual rooms!):
An Unforgettable Breakfast
What makes us one of the best romantic bed and breakfasts in Upstate New York is that our unforgettable breakfast can be served in any number of private locations – even breakfast in bed!
A Boat Tour on Friends Lake
Weather/season dependent, your boat tour on Friends Lake includes evening hors d'oeuvres with wine, beer, or non-alcoholic options.
Help Yourself to the "Honor Bar" or choose a bottle from the Library Wine Cellar
Your are welcome to choose and or make a drink at the bar and indicate it on a "chit" or order a special bottle from the wine cellar  (there is an extra charge for drinks and bottles).
Nightly Turndown Service
Our nightly turndown service is coupled with chocolate truffles for that little something extra.
S'mores at the Firepit or Fireplace
Is it an Adirondack getaway without a campfire? Season/weather permitting, enjoy an evening by Friends Lake and a roaring fire – and maybe a chocolatey treat.
Use Of All the Amenities – Outdoors & In
We are one of the top hotels in Upstate New York with an outdoor Jacuzzi – and in-room hot tubs as well. Enjoy the bubbles and maybe some bubbly outside or in. We also have a nine-person movie theater, a sauna, and exercise equipment.
And did we mention we have WiFi throughout the entire lodge? This perk cannot be understated in the Adirondacks.
See our room options below, and make sure to book direct for one of the best weekend trips in Upstate NY (or a longer stay!).
Reservations & Policies
Book Online: Make an on-line reservation or check availability
Phone: (518) 494-7238
Email: E-mail Us
Please view our Accessibility page to learn more about the accessibility details of our property.
Nightly room rates are for single or double occupancy.
We do request a deposit by check or credit card number to confirm your stay. To confirm a reservation of one night, a 100% deposit is requested. To confirm a reservation of two or more nights, a 50% deposit is required at the time of booking. Upon receipt of the deposit, a written confirmation with directions will be either e-mailed to you or sent via USPS.
Due to our rural location, cancellations affect our lodge significantly. A last-minute cancellation gives us little chance of filling the space in our remote location. For these reasons, we must uphold a strict cancellation policy. If your plans change and you need to cancel, please notify us at least 14 days prior to arrival to receive a full refund of deposit. Two weeks prior to your arrival, the full charge for the intended stay will be taken on the credit card provided.  If a cancellation is made less than 14 days prior to your arrival date or should it be necessary for you to depart earlier than your confirmed reservation dates, you will be responsible for all of the original room nights charges booked from your intended stay. Please note: if we are able to re-book your room, we will refund your deposit/charges to you as well.
We are a gay friendly establishment. Ask about how we can host your commitment or marriage ceremony.
Visit Our Other Property:
The Loft at the Remington in Chestertown, NY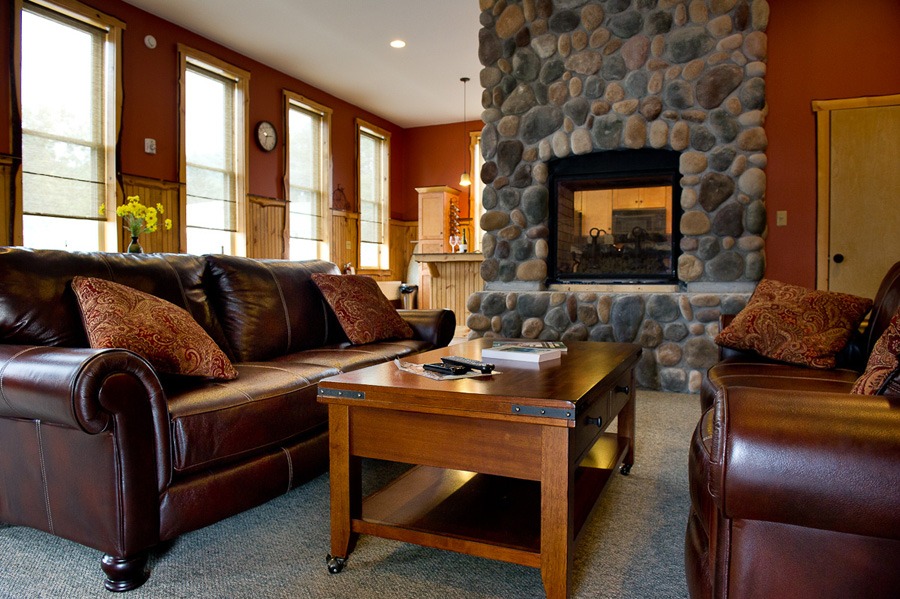 Our  intown Chestertown upstairs rental property is perfect for groups, couples or families (sleeps a maximum of 16)!
It has 4 very large bedrooms, each with a king-size bed and pull-out couch in the sitting area, flat screen tv, a good-size bathroom with walk-in shower, tiled floor and dual pedestal sinks. Common area for all guests' use consists of an open living room with double-sided fireplace, dining room, and Chef's gourmet kitchen. Weekly rental $1995, weekend $1495, Nightly $995.
For more info visit www.theloftattheremington.com  or call us at (518) 417-1757