The Fern Lodge Exclusive Adirondack Resort Hotel: Nearby Experiences, Attractions & Entertainment
Some say the best thing about the Fern Lodge in Chestertown is the location. Our private Adirondack resort is situated in an unspoiled space, surrounded by the natural beauty of the Adirondack Park, close to regional attractions and hotspots.
Keep reading to find out how to make the most of your Adirondack vacation, no matter what time of year you visit. (Yes, we are a perfect destination for a winter getaway in the Adirondacks!)
Hiking & Biking
Hiking has always been a super popular Adirondack activity, with everything from High Peaks mountains to mostly flat, family-friendly trails and everything in between. In recent years, the number of visitors to the Park coming for hiking, mountain biking, and fat tire biking has shot up as well.
Here are just a few hiking areas close to the Fern Lodge:
Cat and Thomas Mountain Preserves
16 minutes away
Thomas Mountain – 1.4 miles round-trip
Cat Mountain from Thomas Mountain – 2 miles round-trip
Cat Mountain from Edgecomb Pond Trailhead – 1.9 miles round-trip
Moderate
30 minutes away
3.1 miles round-trip
Moderate to difficult
20 minutes away
5.5-miles round-trip
Moderate to difficult
Blue Ledges (in Hudson Gorge Wilderness Area)
45 minutes away
4.7 miles round-trip
Easy
Further hiking trails and recreational activities await in the Pharaoh Lake Wilderness and Siamese Ponds Wilderness Region.
Bonus tip: Hikers should definitely check out the Chester Challenge, which encompasses hiking trails right here in the Chestertown area, like Meade and Beckman Mountain, Stewart Mountain, and others. The challenge is conducive to serious or novice hikers. The Fern Lodge has a small trail system to enjoy a wooded walk- just grab a map of the trails and walk out the front door!
When it comes to biking, you'll want to check out the North Creek Ski Bowl Park 25 minutes away and the Warren County Bikeway, about 30 minutes away, which travels from Lake George to Glens Falls. Roads in the area are super fabulous for road riding- low to no traffic and very scenic.
On-the-Water Fun
Swimming, Beaches & Cliff Jumping
On-the-water fun is a must-do for many coming to experience authentic Adirondack vacations and weekend getaways in Upstate NY.
Fern Lodge guests can walk right out the backyard and through our gardens to float in the waters of pristine Friends Lake, or to relax on the boathouse deck. In addition, there are public beaches on Loon Lake, Brant Lake, and Schroon Lake, all close by.
Looking to get to Lake George? We recommend the beach at Rogers Rock State Campground. There are also public beaches in Bolton Landing and Lake George Village.
Adventurous types can check out rope swinging and cliff jumping at the Black Hole!
Paddling, Tubing & Whitewater Rafting
For a relaxing time on the water, rent a kayak, canoe, or standup paddleboard (SUP) from Lake George Kayak Company. Rentals include life vests and paddles, and you can launch right from their Bolton Landing location or bring your watercraft to another launch point on Lake George.
Up for a more exhilarating water-based adventure? Get ready to feel the rush of the rapids whitewater rafting with Beaver Brook Outfitters or the North Creek Rafting Company, both highly rated outfitters in North Creek. Beginners are welcome!
Adirondack Adventure Center, based in Lake Luzerne, offers whitewater rafting and lazy river tubing in addition to treetop adventures. Tubby Tubes in Lake Luzerne is another popular lazy river tubing company.
More Outdoor Adventures
Treetop Courses, Rail Biking, Balloon Flights & More
While the Park is conducive to classic recreation like hiking or kayaking, there are also many unique things to do in the Adirondacks when it comes to the great outdoors.
Besides Adirondack Adventure Center, Adirondack Extreme in Bolton Landing is the other main treetop course in the area. Experience the Adirondacks from high up in the trees, making your way through scramble nets, swinging logs, and suspended bridges.
Rail biking is another ultra-unique activity to the Adirondacks. Revolution Rail in nearby North Creek runs rail biking tours along the Hudson River – it's easy, slow-paced, and for all ages and abilities.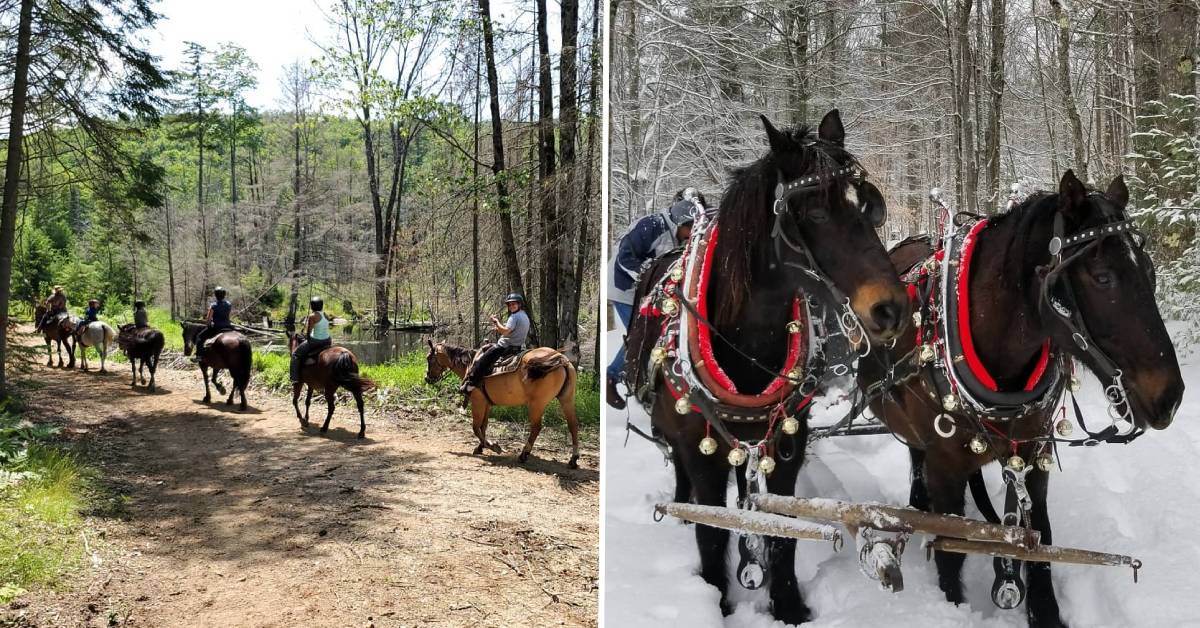 You may not think of horseback riding when it comes to the Adirondacks, but we have a true gem right here in Chestertown with Circle B Ranch. They not only offer guided horseback rides in the summer and fall, but horse-drawn sleigh rides in the winter as well.
Adirondack Balloon Flights by SunKiss Ballooning puts visitors to the Adirondacks up in the sky via a hot air balloon. Reservations are accepted April through October.
Other activities might include golfing at the Sagamore Golf Resort, Highland Park Country Club, or Cronin's Golf Resort, or taking advantage of fishing guide services like Adirondack Mountain & Stream Guide Service or Streamside Fly Shop & Outfitter.
A Winter Getaway in the Adirondacks
Skiing, Snowshoeing, Snowmobiling & More
Coming during the colder months? In addition to horse-drawn sleigh rides with Chestertown's own Circle B Ranch, you can check out downhill skiing at Gore Mountain, cross-country skiing and snowshoeing at the North Creek Ski Bowl or Natural Stone Bridge & Caves, or guided snowmobile tours with C+C Snowmobile Tours.
Discover more things to do in the winter in the Adirondacks >>
Local History & Culture
Museums & Historic Sites
Fort William Henry, 30 minutes away in Lake George, and Fort Ticonderoga, 55 minutes away in Ticonderoga are must-visit attractions for any history buffs. Explore the grounds, take a guided tour, or embark on a Carillon boat cruise at Fort Ticonderoga. Adirondack Experience, also about an hour from the Fern Lodge in Blue Mountain Lake, is another great museum option.
The Sembrich in Bolton Landing, about 30 minutes away, offers a unique cultural experience as they're a performance venue, history museum, and nature preserve all in one. If you're up the for the drive, the Adirondack Park's only publicly owned great camp, Camp Santanoni, is 1 hour and 20 minutes from us.
Scenic Tours on Lakes
The Lake George Steamboat Company and Lake George Shoreline Cruises offer a variety of cruise options, like a champagne brunch cruise or sunset cruise. Although it's a bit longer of a drive at just over 1 hour away, Raquette Lake Navigation Company on Raquette Lake is another excellent, highly rated option (guests love their food!).
Drive-Worthy Day Trips
The Fern Lodge allows guests to get away from it all to experience a true Adirondack paradise in the woods. But, if you're looking to elevate your anniversary getaway or weekend trip in Upstate New York, there are many area hotspots to check out.
If you're looking for the best place to stay in Lake George for couples, know that Lake George is only about 20 minutes from the Fern Lodge! This town and village offers everything from amusement parks like Six Flags Great Escape, to go-karts and mini golf, coffee shops and restaurants, beaches and parks, and even a nightlife scene in the Village come summertime.
Bolton Landing, just north of Lake George and about 25 minutes from Chestertown, also offers beaches, a quaint and walkable village, and prime hiking opportunities like The Pinnacle or Amy's Park. Stop for a beer at Bolton Landing Brewery!
Saratoga Springs, 50 minutes from the Fern Lodge, is best known for the historic Saratoga Race Course, and you can catch horse racing live at the summer meet that runs from mid-July to Labor Day. However, you can enjoy bustling Broadway, unique boutiques and shops, and fine dining in the Spa City at any time of year.
Lake Placid, a little over an hour away, is a must-visit Adirondack destination for many seeking Upstate New York summer or winter getaways. Much more than a ski town, Lake Placid's Whiteface Mountain offers gondola rides and disc golf in the summer, and Olympic sites and the museum are open year-round.
Come see for yourself why the Fern Lodge offers one of the best weekend getaways in New York State!
Find great dining spots to stop at while you're out and about >>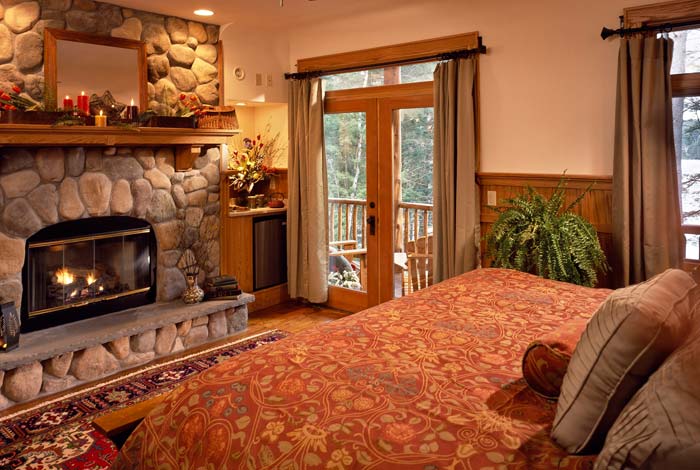 Guest Rooms & Rates
Our luxury Adirondack lodging includes a choice of five intimate guest rooms that are uncommonly comfortable – both rustic and elegant.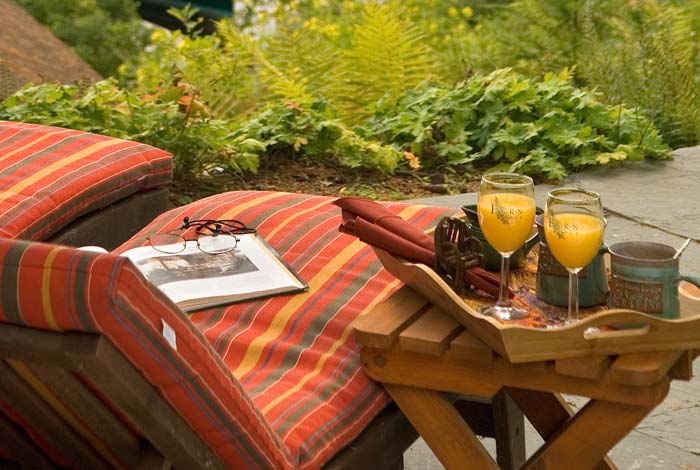 Rave Reviews
Read just a few of our many guest reviews. We are happy that our guests enjoy our Adirondack lodge as much as we do.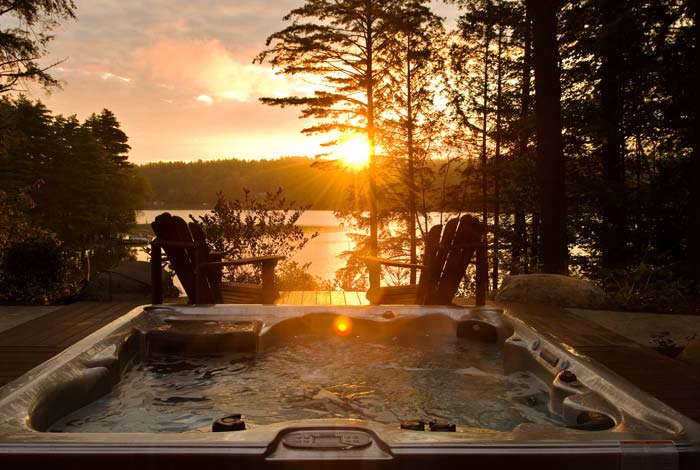 Summer / Fall Packages
Relax and enjoy Adirondack lakeside living this summer with the stunning beauty of the rustic surroundings.