The Fern Lodge Exclusive Adirondack Resort Hotel: Nearby Experiences, Attractions & Entertainment
Guests at our Adirondack resort getaway discover much to see and do while enjoying their stay – our elegant Adirondack hotel lodging on Friends Lake is just a short distance from all the excitement and majesty this beautiful region has to offer.  Note: please be sure when you are going out of your way that the attraction is open and available and you don't necessarily trust google. 
Hiking
There is great hiking everywhere in the Adirondacks. We would love to suggest options for you that range from a lovely scenic walk right out the back door to an all-out full days hike up to a peak. Some favorites of ours: Moxham,  Crane Mountain, Blue Ledges, Cat and Thomas, Pharoah Mountain Wilderness Region, Buck Mountain, Tongue Mountain and the Siamese Ponds Wilderness Region. The Chester Challenge , North Creek Ski Bowl.
Brewery, Wine, Distillery Tours
Visit 1 or all of the 28 breweries, wineries, distilleries in the immediate area on your own- we'll help you weave it into your day! Check out many area craft beverage options on the map. If you don't want to drive yourselves; take the Hoppy Trails Brew Bus– surprise your special someone with a gift certificate for a tour (sorry- only private groups at this time)!
Foodies Unite!
In addition, the area offers many Farmers Markets, (Chestertown's is on Wednesdays behind the town hall) and some very special "foodie" high points; do a "Chocolate Experience" at Barkeater Chocolates or just stop by for some samples. Oscar's, our local smokehouse, is nationally renowned for their smoked meats and cheeses. Nettle Meadow Goat Cheese Farm is an interesting tour to see the goats and the cheese making. Their chevre is nationally known for its mild flavor but our favorite is the Three Sisters. On your way home, be sure to stop at Jacobs and Toney Butcher shop, Meat Store of the North. Pick up some special cuts of meat AND great snacks for the ride home! In March, nearby Thurman showcases a plethora of Maple Farms and their "Adirondack Gold" (maple syrup)!
Ride the Rail bikes at Revolution rail.
Ride your own rail bike for 2 and explore a section of the Adirondacks that has never seen passenger traffic. Check in at the historic North Creek Railroad Station, then take a short shuttle ride 5 miles north of town to the tour launch point. After a short safety briefing, the tour guides will lead the rail bikers further north on a 6 mile round trip cruise. The tour takes riders through the beautiful Adirondack forest canopy along the banks of the Hudson River, and then over the Hudson on a spectacular trestle bridge before turning for home and returning to the launch point and the shuttle bus ride back to the North Creek Railroad Station. Each tour takes approximately 2 hours.
The Adirondack Experience
The Adirondack Experience (formerly the Adirondack Museum) in Blue Mountain Lake is an absolute must-see. Advance ticket sales only! It's a museum about this area and the Adirondacks; primarily the history of tourism, mining and logging industries and much much more. A lot of it is outside – so I recommend it on a nice day as well as a rainy day. And it all overlooks the most amazing vista of Blue Mountain Lake. Open June-mid-October.
a fabulous tour of a genuine "Great Camp" also in Blue Mountain Lake. Advance tickets only.  See "THE MOST ARCHITECTURALLY SOPHISTICATED AND INFLUENTIAL OF ADIRONDACK CAMPS"- Built in 1897 by visionary great camps designer William West Durant on 1,526 acres of remote wilderness in the Adirondack Park, Great Camp Sagamore was a wilderness retreat for the Vanderbilt family for half a century.  It is now a National Historic Landmark managed by a non-profit educational institution as a public trust.
The Racquette Lake Navigation Company does fantastic lake tours with a historical narrative on beautiful Raquette Lake. You need advance tickets and for the lunch and dinner cruises, Covid vaccination is required. For the tours a mask and social distancing is required. In addition, the offer a private tour on their ELCO electric boat for 2.5 hours on either Racquette Lake or the Marion River for 1-4 persons it is $260.00.
Golfing
There are at least 9 beautiful golf courses within 15 minutes of The Lodge that range from very "local" 9 hole courses to the famed Donald Ross course at The Sagamore.
Canoeing and Kayaking
The area is known for its waterways. Enjoy a tour of Lake George with Lake George Kayak Co   or a guided tubing trip down the Hudson with Beaver Brook Outfitters. Or DIY with a flat water paddle on the Hudson or your choice of remote mountain lake with rentals from Beaver Brook Outfitters (and they deliver!)  Or bring your own kayaks or canoe to explore the multitude of lakes and rivers in the area but you don't have to worry- use our kayaks, canoe, or stand up paddleboards here on beautiful Friends Lake. Note: so sorry, you can't launch your own boats on Friends Lake.
River Tubing
Enjoy a unique experience of tubing down the Sacandaga through the whitewater. We also highly recommend a DIY float down the Hudson . Call our favorite outfitter!
Whitewater rafting
Whitewater rafting on the mighty Hudson River. Whitewater raft down the beautiful upper Hudson River through virgin forest through class IV and V rapids; a day long unforgettable trip with a guide and lunch back at the base camp when you pull-out. one : Currently its $260/boat for 2-6 persons)
Swimming and cliff jumping
Just walk out the back door through the gardens to float in the waters of pristine Friends Lake and relax on the boathouse deck or one of the many patios. In addition, there are many public beaches on Loon Lake, Brant Lake, and Schroon Lake VERY close by. Lake George is spectacular, we prefer going to the State Campground at Rogers Rock , but maybe you prefer the more bustling public beaches in Bolton Landing and Lake George Village, with their adjacent beach towns, featuring snacks and trinkets, mini-golf, boat rentals, jet-skis, etc. .For you adventurous types (rope swing and cliff jumping) ; check out The Black Hole!
Adventure Course
Check out the tree top adventure/ropes course at Adirondack Extreme featuring giant zip lines, swings, slides, nets, suspended bridges and more…. Find your "inner monkey"!  Six courses with increasing difficulty- can you make it to the Black Course? .
Horseback Riding
There are numerous options for horseback riding throughout a variety of scenic trails. In the Winter, try winter horseback riding or a horse-drawn sleigh ride! Very close by is the Circle B Ranch or call 518-494-4888.
Scenic Day Trips
Lake Placid Area
 home to both the 1980 and 1932 Olympics, Lake Placid is a beautiful one-hours drive north. Window shop down Main Street, stop for lunch at any number of great luncheon spots, go to the top of the ski jumps and watch the ski jumpers or aerial freestyle skiers practice or compete. Check out the luge or bobsledding going. For the adventurer, take a bobsled ride yourself….www.whiteface.com/facilities/mt-van-hoevenberg. Save room for a piece of pie at The Noonmark diner in Keene Valley on the way home OR how about stopping at the Paradox Brewery for a tasting at Exit 29?
Saratoga Springs
The famous horse racing flat track is open through all of August, but the magnificent historic city of Saratoga is fun to visit year–round.
Lake George Village
from miniature golf, to amusement parks, go-karts, lake cruises on beautiful 32-mile long Lake George, visit Lake George Village. If you prefer more upscale shops, nice restaurants, coffee shop, brewery, check out Bolton Landing.
Up up and Away
Balloon Flights  are perfect for celebrating during a romantic getaway, honeymoon or commitment ceremony at our hotel on Friends Lake, you can fly over the Glens Falls, Lake George area. Take a helicopter flight  over beautiful Lake George and The Adirondacks- to get a "birds eye view"!
Bicycling
in our area is 2nd to none- both road and mountain biking. We've literally biked in many places of the world- and its fantastic here with miles and miles of low traffic scenic riding. For road biking we recommend the "3 lakes"  or the "3 mountains"- but they are all spectacular!  Mountain biking is also 2nd to none! There are 5 different parks very close by. Our favorite is at The North Creek Ski Bowl (free). Contact us for other maps and local intel for great biking routes near our Adirondack resort hotel. Or come with us!
Heritage and History
The history of the Adirondacks is as diverse as its geography. A battleground through three wars, the turf of loggers and miners, the vacation destination of Gilded Age magnates and home to two Winter Olympic Games, the depth and breadth of the region's heritage is only matched by its glorious scenery. You'll find Fort Ticonderoga  and Fort William Henry, museums, historic homes and "Great Camps," excursion railroads and even sunken wrecks in the Adirondacks. There are lots of historic sites and monuments to see. The Sembrich (opera Museum) in Bolton Landing is lovely to see – especially the lakeside wooded gardens. Hike or bike into Camp Santanoni in Newcomb and see an actual Great Camp in restoration.
Downhill Skiing at Gore Mountain
A short 20 minute drive from The Fern Lodge Adirondack resort. Gore Mountain www.goremountain.com boasts 2100′ vertical, 11 lifts, 75 trails and 95% snowmaking, Gore is a premier ski area of the northeast and is opening a new face of the mountain "Burnt Ridge" with a new quad chair and 4 new trails. The North Creek Ski Bowl offers night skiing and tubing. Whiteface Mountain is 1 hour away and West Mountain is 45 minutes south. www.whiteface.com
Cross-Country Ski and Snowshoe
Facilities at Garnet Hill, North Creek Ski Bowl, Lapland Lake and others including unlimited acres access on state land.
Sledding
Enjoy sledding and tobogganing at nearby Dynamite Hill !
Snowmobiling
If you have your own machines join the North Warren Trailblazers at www.northernwarrentrailblazers.snowclubs.com for miles and miles of groomed trails… If you would like to rent "sleds" there are options for guided 1 and 2 hour trips for single or double riders. Explore both beautiful pine woods and/or open frozen lake terrain, and return to our luxury Adirondack hotel for the ultimate in relaxation. You can rent a "Machine" by-the-single" or "by-the-double" and enjoy a tour on nice wooded trails or out on frozen Loon Lake with candcsnowmobiletours.com 518-796-1308
Horse Drawn Sleighrides and Winter Horseback Riding
Enjoy a romantic "one horse open sleigh" for just the 2 of you or the larger sleigh for bigger groups. The winter horseback riding through the snowy fields and beautiful forest is very memorable as well. www.circlebranch.net
Visit our other property
The Loft at the Remington in Chestertown, NY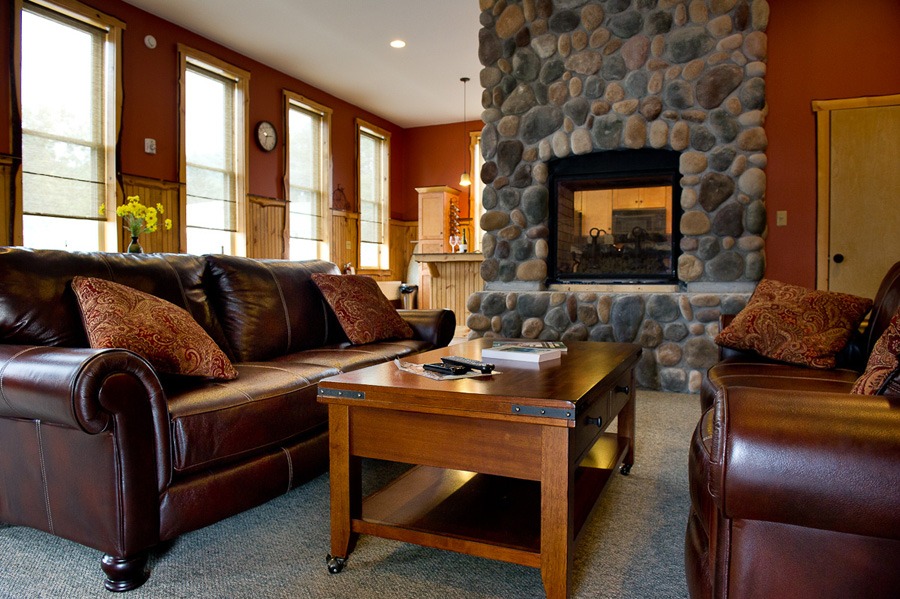 Our new intown Chestertown upstairs rental property is perfect for groups, couples or families (sleeps a maximum of 16)!
It has 4 very large bedrooms, each with a king-size bed and pull-out couch in the sitting area, flat screen tv, a good-size bathroom with walk-in shower, tiled floor and dual pedestal sinks. Common area for all guests' use consists of an open living room with double-sided fireplace, dining room, and Chef's gourmet kitchen. Weekly rental $2400, 2-night weekend $1600,
For more info visit www.theloftattheremington.com  or call us at (518) 417-1757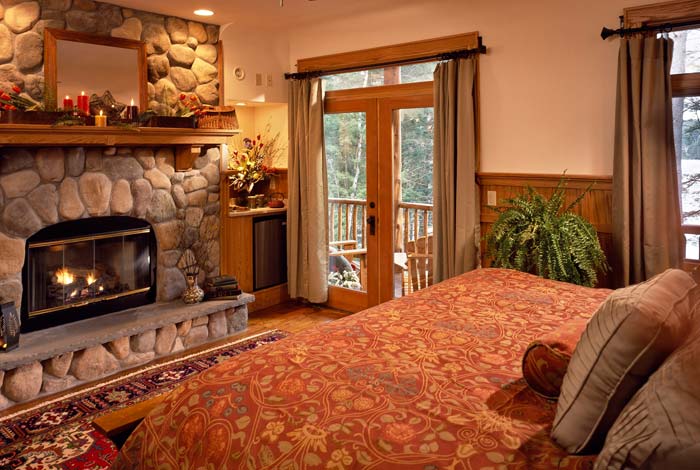 Guest Rooms & Rates
Our luxury Adirondack lodging includes a choice of five intimate guest rooms that are uncommonly comfortable – both rustic and elegant.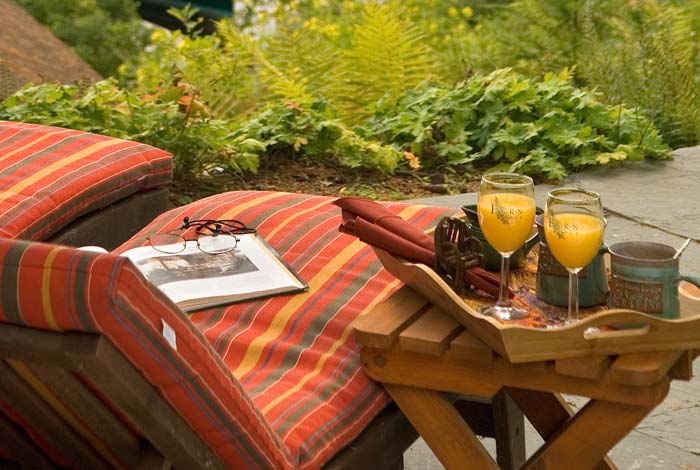 Rave Reviews
Read just a few of our many guest reviews. We are happy that our guests enjoy our Adirondack lodge as much as we do.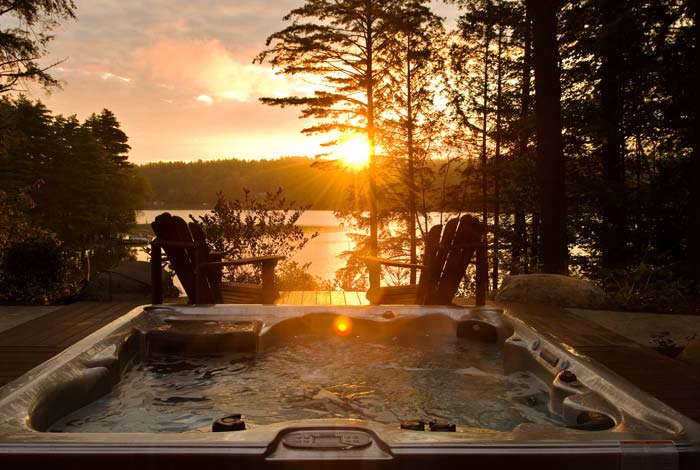 Summer / Fall Packages
Relax and enjoy Adirondack lakeside living this summer with the stunning beauty of the rustic surroundings.