Getaway Places in New York: See Sample Itineraries for Staying at the Fern Lodge in the Adirondacks
Don't be just a tourist- feel it and live it! Cool itineraries in the Adirondacks. Note: please be sure when you are going out of your way that it is open and available and don't necessarily trust google.
If you're looking for a New York honeymoon itinerary, any of the following can be easily customized for a honeymoon, romantic anniversary getaway, or even an elopement. The below itineraries are divided into Breweries/Wineries/Distilleries, Extreme Adventures, Hiking, Rail Biking, and more – even our recommendations for top coffee shops.
What would we do if we were you?
Breweries, Wineries, Distilleries, Oh MY!
Brewery, Wine, Distillery Tours Visit 1 or all of the 28 breweries, wineries, distilleries in the immediate area on your own- we'll help you weave it into your day! Check out many area craft beverage options on the map. If you don't want to drive yourselves; take the Hoppy Trails Brew Bus-(currently only offering to groups) surprise your special someone with a gift certificate for a tour!
Maybe start with Bolton Landing Brewing Co, take a walk down through the Park to take a look at the magnificent Lake George. Head down to Lake George Village and visit Adirondack Winery and Adirondack Pub and Brewery or a side trip towards Fort Ann and the Lake George Distilling Co. The drive up Prospect Mountain gives you a magnificent view. The hike up is really nice too (but well-traveled). If you still want more : Northway Brewing Co, Mean Max Brew Works, Coopers Cave Ale Co and Davidson Brothers Brew Pub are all close to each other in Glens Falls. We highly recommend a stop at Paradox Brewery on the way up to or coming back from Lake Placid!
Museums, anyone? The Hyde Museum in Glens Falls is extremely noteworthy Particularly for fine art- we highly recommend a visit. You MUST visit the Adirondack Experience (formerly the Adirondack Museum, only open late May-October) in Blue Mountain Lake- there are many outdoor exhibits- nice for a nice day or a rainy day!
Extreme Adventure
Check out the tree top adventure/ropes course at Adirondack Extreme featuring giant zip lines, swings, slides, nets, suspended bridges and more…. Find your "inner monkey"!  Six courses with increasing difficulty- can you make it to the Black Course? Afterwards, drive down into Bolton Landing for a tasting and a bite to eat at Bolton Landing Brewery Company or if you prefer- a great cup of Cappuccino at The Bear's Cup Still ready for more? The Hike to The Pinnacle is short with a really magnificent  view of the Narrows in Lake George.
Classic Day Outing from The Fern Lodge AKA Two Hikes and a Brownie Sundae!
The Town of Chester maintains a group of trails collectively called The Chester Challenge. All 8 trails are within 10 minutes of the Lodge. They are all fairly short hikes with a magnificent view. Ascend Kipp Mountain (1.5 hours round trip) – its steep at the top but short with a really great view looking south down Loon Lake. Treat yourself to a really great lunch at Main Street Ice Cream– save room for dessert! The gift shop upstairs is really nice, as is Rustic Charm across the street and Panther Mountain Trading Co heading just  ¼ mile south on Main St/Rt 9. Work off that Hot Brownie Sundae or Milkshake with another short hike/walk in to Palmer Pond OR continue your adventure theme  with a visit to an area swimming hole with rope swing and cliff jumping ; check out The Black Hole! You should have plenty of time to cap off your great day with the daily Boat Tour at the Lodge with hors d'oeuvres and drinks (check what time it will be)
Revolution Rail- Rail Bike Tours along the Hudson in North Creek
Stop at Izzy's or Café Sarah in North Creek for a lunch or snacks to take with you. Ride the Rail bikes at Revolution rail. Ride your own rail bike for 2 and explore a section of the Adirondacks that has never seen passenger traffic. Check in at the historic North Creek Railroad Station, then take a short shuttle ride 5 miles north of town to the tour launch point. After a short safety briefing, the tour guides will lead the rail bikers further north on a 6 mile round trip cruise. The tour takes riders through the beautiful Adirondack forest canopy along the banks of the Hudson River, and then over the Hudson on a spectacular trestle bridge before turning for home and returning to the launch point and the shuttle bus ride back to the North Creek Railroad Station. Each tour takes approximately 2 hours.  You need an advance reservation. Enjoy a great beer or wine at either The Barking Spider or BarVino in North Creek before coming back to the Lodge. Check out the fantastic mural across from Café Sarah Bakery. Bring your bathing suits and stop for a swim at Minerva Lake or at the Back Hole!
Crazy Mix; Scenic drive, Fort Ticonderoga, Star Trek Museum AKA Something for Everyone!
Take a beautiful drive over Rt 8 to Ticonderoga. See for yourself what a strategic location Fort Ticonderoga www.fort-ticonderoga.org was in the French and Indian war and what a magnificent view the soldiers had from the ramparts! Take some time before or after visiting the museum, to see the park in the middle of Ticonderoga and see the waterfalls "LaChute'. Hard to believe, but Ticonderoga is also home to The Star Trek Museum; they have the original set from Star Trek including the command bridge of the Enterprise, with the "beam me up" chutes. A worthwhile stop- whether you are a "Trekkie " or not! You could always come home via the lakeside drive over Tongue Mountain and stop at Bolton Landing Brewing Co for a quick tasting or snack. If you bring your bathing suits and a towel, there are lovely places to swim at Roger's Rock State Campground our public beaches in Hague, or 2 public beaches in Bolton Landing, or hustle your way "home" to the lodge for a plunge  in  pristine Friends  Lake!
Visit Lake Placid
It's a really beautiful scenic drive up to Lake Placid. Stop en route at Exit 29 for a tasting at Paradox Brewery. In Keene, stop at  Dartbrook Rustics or at any number of rustic shops, bakeries and cute cafes.  Window shop down Main Street of Lake Placid, stop for lunch at any number of great luncheon spots, go to the top of the ski jumps, take the lift up Whiteface or drive up Whiteface Memorial Highway, take a walk around the lake and end up at Lake Placid Brewing Co for an Ubu Ale. Save room for a piece of pie at The Noonmark diner in Keene Valley on the way home. On the way home stop in Schroon Lake for a quick hike up Mt Severance (at the north end of town) or at Sticks and Stones (heading south from the town of Schroon Lake towards Pottersville) for a great wood –fired pizza and a Paradox Brew on tap. Of course, stop at Paradox Brewery on the way up or the way back just off Exit 29!
Explore our Area via Coffee Shops
North Creek– Izzy's Market and Deli  roasts their own coffee and has a great lunch. Café Sarah has great cappuccino and limited sandwiches and bakery delights. In North Creek, check out the Depot Museum and the nations oldest working turntable at the railroad where Teddy Roosevelt was inaugurated after McKinley passed. Take a Rail Bike ride along the Hudson River. Hike or bike at the North Creek Ski Bowl.  Take a gondola ride up Gore Mountain.  Just north of town get a good look at the Hudson River and drive up to North River to Barton Mines. Go see the world's largest garnet mine and walk around and pick up garnet yourself!
Schroon Lake – visit 9 Mile Coffee Shop. Bring your bathing suit, the public beach in the middle of town is nice, and the State Parks at Scaroon Manor (very cool to see the remnants of the old hotel there) and Eagle Point are very nice to swim or walk around also. Mt Severance is a nice small hike with a great view. Don't miss Pine Cone Mercantile and North Woods Bread Co. Heading south out of Schroon Lake is Sticks and Stones – a nice stop for a drink or lunch or dinner. It was formerly the shop of noted rustic furniture artist Barry Gregson- now it's a restaurant and bar – but some of his pieces are still there and he did build out the bar. Try some of Paradox Breweries beers on tap. Stone Bridges and Caves is a natural attraction just before Pottersville at Exit 26 (North) that is nice to walk around and see the rushing water.
Bolton Landing- home of the Bear's Cup  great coffee shop with bagels and made-from-scratch pastries. Lots of nice upscale shops, restaurants and bars to poke around. Two nice public beaches; one right in town, the other is a short drive north just outside of town. Two hikes I'll mention but there a plethora of others! The Pinnacle  is a short hike with magnificent view. Cat and Thomas Mountains   are more of an all day hike- but highly recommended. Bolton Landing Brewing Co is the perfect spot for a taste of their brew and a bite to eat. Adirondack Extreme is en route as well. A fantastic adventure with zip lines and high above the ground ropes course.  Get out on Lake George with a kayak rental  from Lake George Kayak Co . The grounds of the Sagamore Resort are beautiful. Go get a drink and walk the grounds. Or rent your own boat to enjoy our magnificent 32-mile long lake from Bolton Boat Rentals or Chics Marina.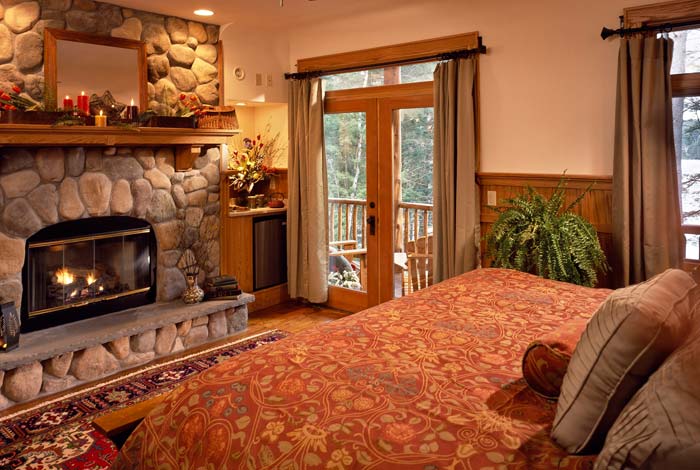 Guest Rooms & Rates
Our luxury Adirondack lodging includes a choice of five intimate guest rooms that are uncommonly comfortable – both rustic and elegant.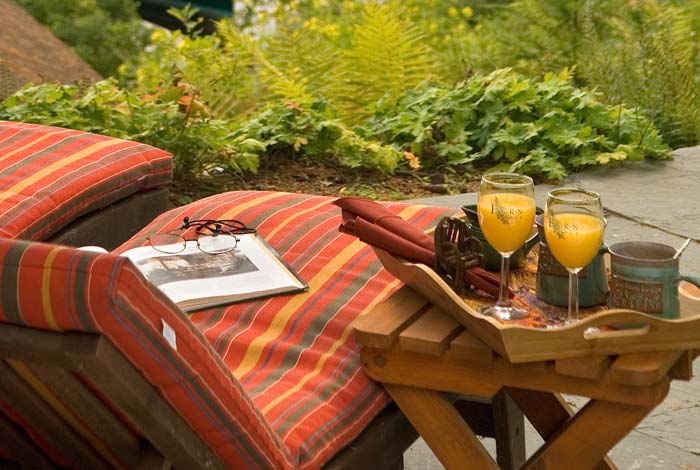 Rave Reviews
Read just a few of our many guest reviews. We are happy that our guests enjoy our Adirondack lodge as much as we do.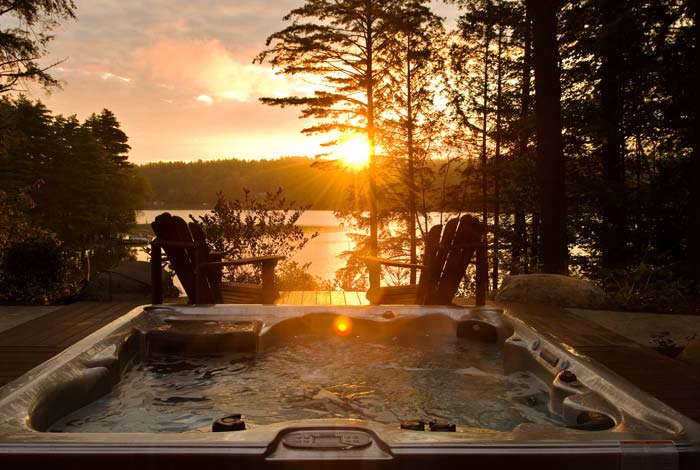 Summer / Fall Packages
Relax and enjoy Adirondack lakeside living this summer with the stunning beauty of the rustic surroundings.