Getaway Places in New York: See Sample Itineraries for Staying at the Fern Lodge in the Adirondacks
Come be a part of the Adirondacks and its rich history by planning your Adirondack mountains romantic getaway around one of these sample itinerary ideas. We here are the Fern Lodge in Chestertown are fortunate to be in the center of so many cool things to do. Romantic vacations in New York just got kicked up a notch!
Create your own New York honeymoon itinerary (or a simple romantic trip) that might include checking out a brewery, scaling the treetops at an adventure park, or embarking on a day trip to another Adirondack destination nearby, to enjoy a park with a waterfall and covered bridge in Ticonderoga or an Olympic Museum in Lake Placid.
Remember to double check hours and additional details for each business!
Ideas to Build Itineraries Around: From Craft Beer to Extreme Adventures to Day Trips
Try a Tasting at Breweries, Wineries & Distilleries
Check out the many area craft beverage businesses throughout the region through the Adirondack Craft Beverage Trail. They have a convenient map of their trail where you can built ideas off of.
Here are a few of our suggestions, that you could easily mold into a day-long trip using the Fern Lodge as your home base. Just make sure you have a designated driver, and stay hydrated and well-fed!
Adirondack Winery
Adirondack Winery has locations in Lake George Village and in Queensbury. They're known for their fruit-infused wines, and they often have fun events or classes going on, like Uncork & Craft. Could make a great date night!
Adirondack Winery in the Village is just under 30 minutes from the Fern Lodge, and Lake George Distilling is just down the street.
Lake George Distilling Company
The Lake George and southern Adirondack areas are rife with breweries and wineries, but don't discount distilleries! Lake George Distilling Company is located in the Village and in Fort Ann. We recommend the Apple Pie Moonshine or Lake George Lemonade!
From Lake George Distilling you could make your way north 15 minutes to Bolton Landing Brewing Company.
Bolton Landing Brewing Company
Bolton Landing Brewing Company not only has great brews and fantastic chicken wings, but they're located in a sweet spot in Bolton Landing, right across from Rogers Park. Take a romantic walk to the park together after grabbing some food and drink, and enjoy the scenic sights of Lake George.
From Bolton Landing Brewing you could make the 25 to 30 minute drive back to Fern Lodge, or, head about 35 minutes north for one more stop, Paradox Brewery.
Paradox Brewery
Situated about 30 minutes north of Fern Lodge in North Hudson is Paradox Brewery. They have an outdoor deck in addition to the tasting room, and they offer beer, wine, cider, and food – the pizza is wonderful!
Make Time for a Museum
Check out the following museums together! The Hyde is open year-round, the other two seasonally. Fort William Henry and The Hyde are 20 minutes from each other, and would be easy to visit in the same day.
Fort William Henry
Experience what life was like at a British fort circa 1755 when you visit Fort William Henry in Lake George, about 30 minutes from Fern Lodge. They always have reenactments and other special events going on, and as of 2022 a new "augmented reality" experience.
The Hyde Collection
The Hyde Collection in Glens Falls, about a 45-minute drive from the Fern Lodge, is a must-visit attraction for those who love the arts. This historic house and museum is akin to those you'd find in New York City, and they even have a Rembrandt in their permanent collection.
Fort Ticonderoga
Fort Ticonderoga, formerly Fort Carillon is an 18th century fort not unlike Fort William Henry with beautiful grounds to walk around and lots to explore. Bring a picnic lunch, stroll through the King's Garden, or embark on a boat ride tour on their Carillon boat. This museum is about an hour from us.
Bonus tip: If you pay the Fort Ticonderoga admission you'll get a free token (normally $10) to drive up Mount Defiance, where you'll see stunning views of Lake Champlain.
Adirondack Experience, the Museum on Blue Mountain Lake
Adirondack Experience in Blue Mountain Lake is also about one hour from Fern Lodge and we highly recommend a list! It has a wide array of indoor and outdoor exhibits where you and your favorite person can really immerse yourselves in Adirondack history. A lot of the exhibits are outside and the entire campus has a most magnificent view of Blue Mountain Lake!
Get Extreme & Adventurous
The Fern Lodge is one of the best places to stay in the Lake George area for couples, in part because we offer a getaway to outdoor adventures many seek when booking romantic vacations in New York.
Adirondack Extreme is 20 minutes from us in Bolton Landing, and here you can check out ziplines, swings, slides, nets, suspended bridges, and more in their treetop adventures. Afterwards, swing by Bolton Landing Brewing to reward yourself for a drink.
Adirondack Adventure Center in Lake Luzerne is just over 30 minutes from Fern Lodge. They have not only a treetop adventure/ziplining park, but whitewater rafting and lazy river tubing as well. They typically offer discounts if you book more than one package!
Check both businesses for seasonal dates – they are usually open spring through early fall.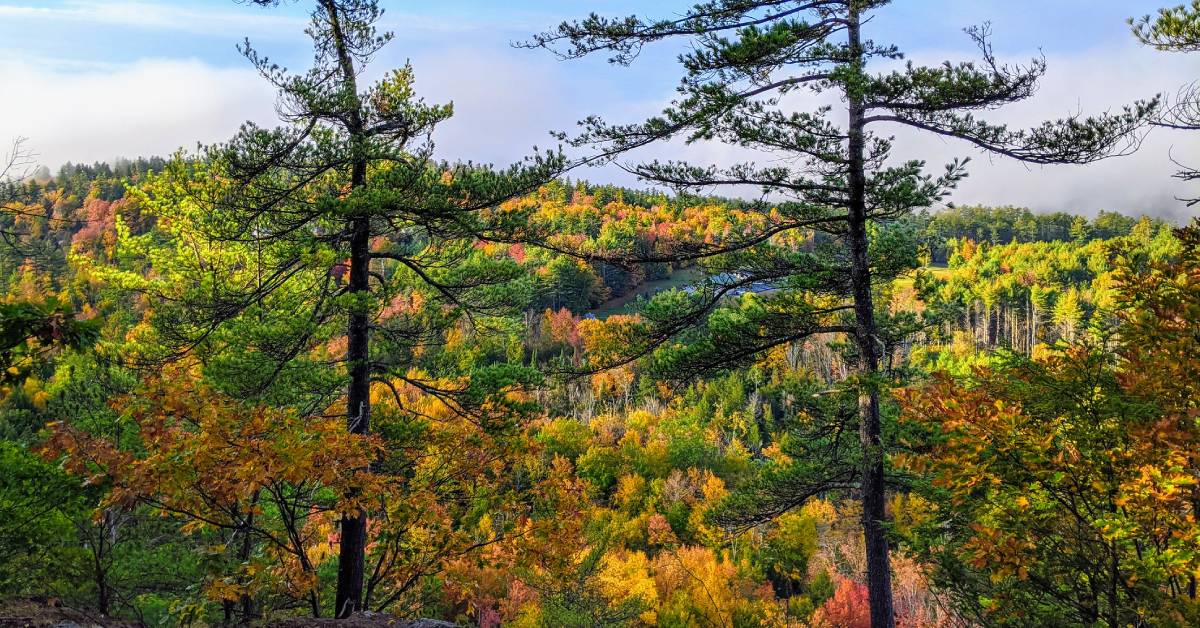 Take on the Chester Challenge & Explore Caves
We can't talk about Adirondack adventures for couples without getting into hiking! The Town of Chester maintains a group of trails collectively known as the Chester Challenge. All eight trails are within 10 minutes of Fern Lodge, and they're all fairly short hikes with magnificent views.
If you are looking for more of a steeper hike, opt for Meade and Beckman Mountains, which are hiked together, or Kipp Mountain, which has some steep sections. Don't forget to apply for your badge if you complete all eight hikes!
Note: Kipp Mountain is typically closed for big game hunting season from mid-October through mid-December, Meade and Beckman are usually closed from mid-September to mid-May.
And, to access Green Hill and Catamount Mountain, you must pay the fee at Natural Stone Bridge & Caves, which is yet another Adirondack adventure you'll want to check out with your sweetheart! This family-owned business boasts the largest marble cave entrance in the eastern US. They offer self-guided and above-ground nature trails in addition to cave crawls, and in the winter, snowshoeing.
Find One of the Most Unique Things to Do in the Adirondacks: Rail Biking
Revolution Rail in North Creek, just over 20 minutes from the Fern Lodge, offers several different options for rail biking routes. See the Adirondacks in a whole new way with your partner when you're rail biking together over or along the Hudson River – they even offer a "moonlight" option! Tours take about 2.5 hours, and if you're wondering, you will not overexert yourself rail biking. If you can pedal a bike, you can operate a rail bike.
Embark on a Scenic Drive to Ticonderoga or Lake Placid
Take a leisurely 50-minute drive along Route 8 from Fern Lodge to Ticonderoga. Visit Fort Ticonderoga, the Star Trek Original Series Set Tour (a worthwhile trip even if neither of you are Trekkies – they have the original set from Star Trek, including the command bridge of the Enterprise), and stop at Bicentennial Park, just down the road. This gorgeous park sits at the base of the last waterfall along the La Chute River. Take the roughly four-mile LaChute River Walk Trail together, or simply enjoy the walking trail around the park. The Ticonderoga Heritage Museum & Visitor Center is located in Bicentennial Park as well.
The one hour, 20-minute drive up to Lake Placid is also scenic and relaxing for a New York couples getaway, with several great options of places to stop along the way. Stroll down Schroon Lake's Main Street and pick up a souvenir or two. Check out the network of pedestrian trails (that include four viewpoints, two of which are along the Schroon River) at Frontier Town Campground, or go shopping at Gokey's Outlet Stores in North Hudson. Visit Keene for rustic shops, bakeries, and cute cafes.
When you arrive in Lake Placid the possibilities for things for couples to do are endless: go to the top of the ski jumps, take the lift up Whiteface Mountain or drive up Whiteface Memorial Highway, or check out the Olympic Museum.
Explore Our Area via Coffee Shops
Are you two coffee fiends who could put Lorelai Gilmore to shame? Put together an itinerary that involves stopping at a new coffee shop or two during your stay with us:
North Creek
Izzy's Market and Deli roasts their own coffee and offers sandwiches that are raved about. Grab a couple to go and eat them while on a hike!
Café Sarah has a to-die-for cappuccino along with assorted bakery delights.
Schroon Lake
9 Mile Coffee Co boasts nearly all five-star google reviews for their lattes, expressos, breakfast sandwiches, and more.
Bolton Landing
The Bear's Cup  is a great coffee shop with bagels and made-from-scratch pastries.
Sunrise Cafe is known for their breakfast sandwiches are coffee that even java connoisseurs can appreciate.
Learn More Ideas to Craft Your New York Weekend Getaway Around
The possibilities for the perfect romantic trip are endless! Check out seasonal things to do in the ADK near Fern Lodge at the links below:
Plan a summer trip to the Adirondacks >>
Discover fall in the Adirondacks >>
See recommendations for Upstate NY winter getaways >>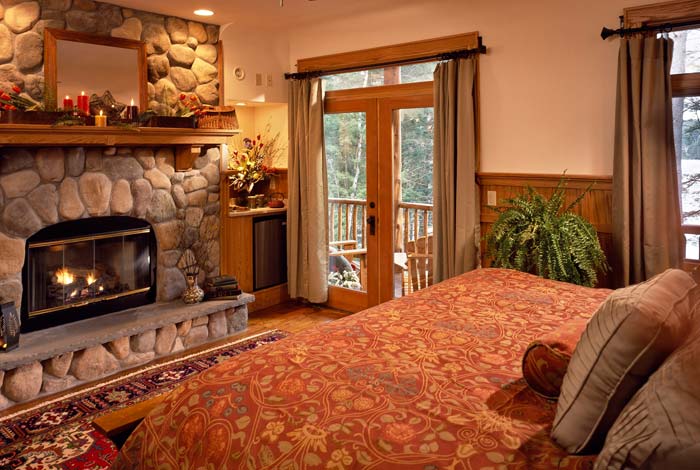 Guest Rooms & Rates
Our luxury Adirondack lodging includes a choice of five intimate guest rooms that are uncommonly comfortable – both rustic and elegant.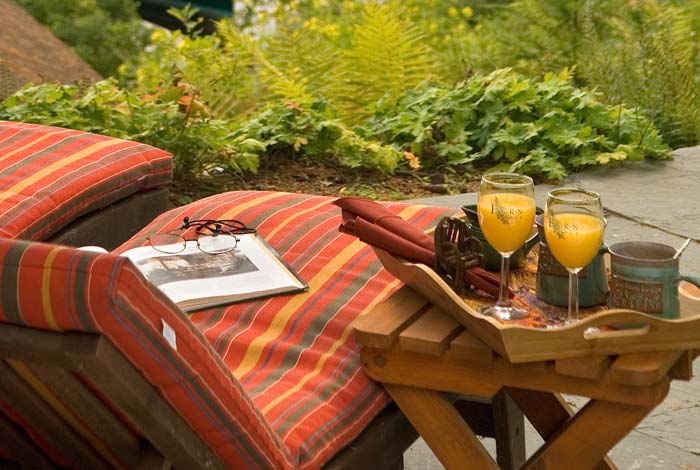 Rave Reviews
Read just a few of our many guest reviews. We are happy that our guests enjoy our Adirondack lodge as much as we do.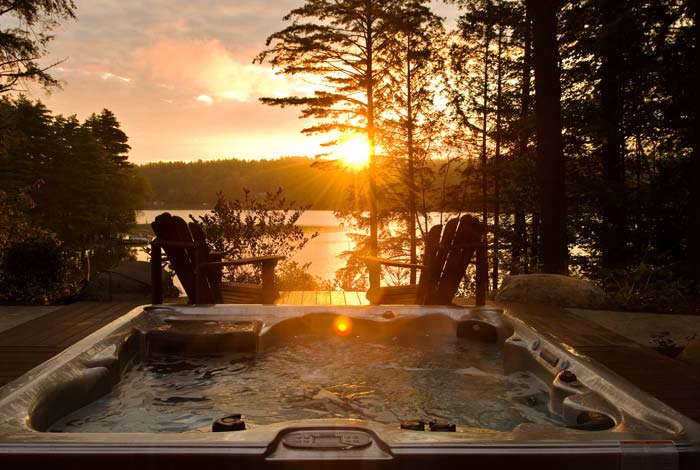 Summer / Fall Packages
Relax and enjoy Adirondack lakeside living this summer with the stunning beauty of the rustic surroundings.