Make Fern Lodge Your Home Base for a Fall Getaway in the Adirondacks
Fall is all about the spectacular Adirondack foliage, which serves as the perfect backdrop for hiking, biking, rafting, or even just lounging in a Jacuzzi or hot tub. Make the Fern Lodge your fall headquarters for luxury getaways from NYC each autumn – or wherever you happen to be traveling from. We're one of the best resorts in New York for couples in the fall, in part because of how close we are to all these classic Adirondack autumn experiences you'll want to check off your romantic vacation bucket list.
Combine luxurious amenities and a spectacular lodging experience at the Fern Lodge with one or more of these quintessential fall things to do in the Adirondacks:
1) Enjoy an Adirondack Foliage Drive
Everywhere you go you'll see plum purples, crimson reds, burnt oranges, and canary yellow leaves, but we recommend a gorgeous fall drive heading west on Route 28.  Adirondack Experience in Blue Mountain Lake is typically open through Columbus/Indigenous Peoples' Day Weekend and are just under 1 hour away. Great Camp Sagamore in Raquette Lake is 1 hour and 20 minutes away, and is stunning in the fall. Or, Raquette Lake Navigation Company, about 1 hour and 10 minutes away, usually offers some of their ultra-popular cruises through early October.
Looking for an Adirondack foliage drive to a hiking destination? Try Owl's Head Mountain Trail in Long Lake or Owl's Head in Keene, both just over an hour away. Or, for a shorter foliage drive, Mount Severance is just under 30 minutes north of the Fern Lodge – this is a popular fall foliage hiking spot, though, so plan to arrive at the trailhead early! Or, try this other mountain:
2) Hike Up Crane Mountain
Crane Mountain near Johnsburg, is just under 30 minutes from the Fern Lodge and is considered a rewarding but challenging hike. Experienced hiker couples for this one, only! You can opt to hike 1.4 miles to the summit or take a loop hike for 3.1 miles in all; both options have steep sections. The shorter trail has two ladders. Both trails offer great views  on your way to the top, and there's also a picturesque pond.
We suggest bringing a picnic lunch from Main Street Ice Cream in Chestertown to eat at the top.  Is it just us, or does their pastrami melt taste even better when you're gazing out at stunning foliage?
3) Plan a Day Trip to Lake Placid
Lake Placid: Lake Placid is one of the top rated getaway places in New York State, particularly in the winter. But it's much more than just a ski town! Discover how beautiful this region can be in the autumn as you check out the Ski Jump, drive up Whiteface Memorial Highway, and simply window shop or grab lunch while walking down Main Street. Lake Placid is 1 hour and 20 minutes away from the Fern Lodge, and you'll love every foliage-soaked second of the drive up.
4) Embark on a Gore Gondola Ride
Just like Like Placid, Gore Mountain has much more to offer besides spectacular skiing opportunities – especially in the fall! Their scenic skyrides are offered summer through autumn, and you can opt for the 30-minute ride to the top followed by a hike down the mountain. You could even put mountain bikes in the gondola (there's room!) to take advantage of their mountain biking trails. This is also a prime opportunity to make the most of a romantic picnic. Gore is only 25 minutes from us.
5) Learn About History at Fort Ticonderoga
You don't need to be a history buff to enjoy all Fort Ticonderoga has to offer. Located just under 1 hour from the Fern Lodge, you can spend a couple hours or a whole day at this historic site and museum, which offers stunning views of Lake Champlain. Plus, if you pay Fort Ticonderoga admission, you automatically get to drive up Mount Defiance for free – now that's an Adirondack foliage view to write home about. Fort Ticonderoga also offers Fort Carillon cruises on Lake Champlain, typically going into October. And, they have a corn maze, complete with historical clues!
While in you're Ticonderoga, stop by Bicentennial Park and take a selfie together by the waterfall or at the covered bridge, with the foliage in the background.
6) Take a Fall Rafting Trip
The Fern Lodge is situated within a 40-minute or less drive from about half a dozen reputable whitewater rafting outfitters, whose season typically extends to mid-October. Enjoy the foliage while whitewater rafting down the Hudson River with North Creek Rafting, Wild Waters Outdoor Center, or Adirondack Adventure Center, the latter of which purchased new land along the river in late 2022 to take effect in 2023, which translates to perks for guests like easier access to the river, more time slots available, etc.
7) Try Rail Biking With Revolution Rail
Revolution Rail in North Creek is just over 20 minutes from the Fern Lodge, they offer a few different options of routes to ride on, and they operate through the end of October. When it comes to experiencing the Adirondack foliage in a new way, it doesn't get more unique than rail biking.
8) Get Into the Swing of Things With a Golf Game
If you two prefer to see the brilliant colors of the leaves while swinging an iron, we suggest Cronin's Golf Resort, only 15 minutes from us in Warrensburg. Their fees are ultra-reasonable, the 18-hole course offers scenic views (including of the Hudson River), and they have a classic clubhouse bar where you can enjoy a drink after your game.
9) Mountain Bike on Local Trails or at Garnet Hill Lodge
If you'd like to go beyond a foliage hike, but maybe aren't ready for an activity as extreme as whitewater rafting, maybe mountain biking is for you. You can bring your bikes and we're happy to recommend our favorite loops to you. Or, Garnet Hill Lodge in North River, just over 30 minutes from us, has on-site mountain biking trails as well as rentals.
10) Relaxing Here at the Fern Lodge
If you think "romantic hotels with a Jacuzzi tub" when you envision your Adirondack vacation this fall you have come to the right spot. There's nothing wrong with spending your intimate time away from home sipping your favorite beverage as you sink deep into rich bubbles. We're one of few lodges in Upstate New York that offer in-room hot tubs as well as outside – complete with views of Friends Lake, of course.
Yes, hot tubs and Jacuzzis are wonderful regardless of the weather, but in our opinion fall is the prime time: it's cool enough at night you can truly appreciate the warmth of the water, but not so cold that you'll freeze when getting out. And have we mentioned the foliage?
Bonus tip: We here at the Fern Lodge can help arrange to have a licensed massage therapist come to your room. You can spend the rest of the day lounging on the boat deck, the lake view patios, or the privacy of your own porch. While we are a luxury inn/resort, we also pride ourselves on being an authentic Adirondack B&B: we serve a generous private breakfast to you come morning.
Check availability at the Fern Lodge >>
Look at Fall Foliage Report before you come >>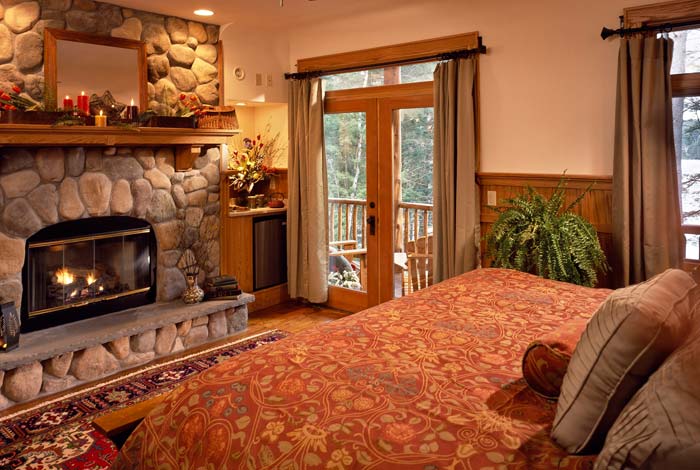 Guest Rooms & Rates
Our luxury Adirondack lodging includes a choice of five intimate guest rooms that are uncommonly comfortable – both rustic and elegant.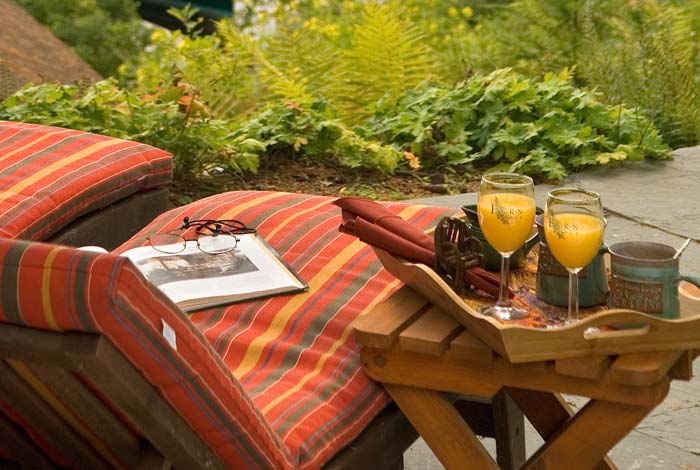 Rave Reviews
Read just a few of our many guest reviews. We are happy that our guests enjoy our Adirondack lodge as much as we do.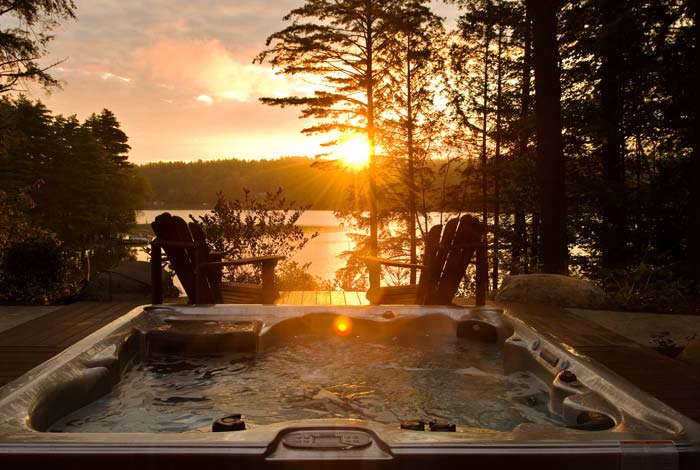 Summer / Fall Packages
Relax and enjoy Adirondack lakeside living this summer with the stunning beauty of the rustic surroundings.