The Fern Lodge Exclusive Adirondack Resort Hotel: Nearby Attractions & Entertainment
Guests at our Adirondack resort getaway discover much to see and do while enjoying their stay – our elegant Adirondack hotel lodging on Friends Lake is just a short distance from all the excitement and majesty this beautiful region has to offer:
Hiking
There is great hiking everywhere in the Adirondacks. We would love to suggest options for you that range from a lovely scenic walk right out the back door to an all-out full days hike up to a peak. Some favorites of ours: Crane Mountain, Blue Ledges, Pharoah Mountain Wilderness Region, Buck Mountain, Tongue Mountain and the Siamese Ponds Wilderness Region.
Golfing
There are at least 9 beautiful courses within 15 minutes of The Lodge that range from very "local" 9 hole courses to the famed Donald Ross course at The Sagamore.
Canoeing and Kayaking
The area is known for its waterways. Enjoy a tour of Lake George with Lake George Kayak Co www.lakegeorgekayak.com or perhaps take a clinic from Wild Waters Outdoor center www.northcreekrafting.com. Bring your own kayaks or canoe to explore the multitude of lakes and rivers in the area or use our kayaks, canoe, or stand up paddleboards  here on beautiful Friends Lake.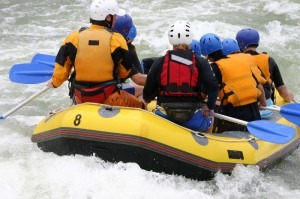 River Tubing
Enjoy a unique experience of tubing down the Sacandaga through the whitewater. Tube tours and guided rafting adventures. www.beaverbrook.net
Adventure Course
Check out the tree top adventure/ropes course at www.Adirondackextreme.com, featuring giant zip lines, swings, slides, nets, suspended bridges and more…. Find your "inner monkey"!
Rodeos
It might be hard to believe, but Warren County has a number of dude ranches and rodeos available www.1000acres.com, www.paintedponyrodeo.com, www.ridinhy.com.
Horseback Riding
There are numerous options for horseback riding throughout a variety of scenic trails. In the Winter, try winter horseback riding or a horse-drawn sleigh ride! Very close by is the Circle B Ranch. Check it out at www.circleBranch.net or call 518-494-4888.
Balloon Flights
Many options available. Perfect for celebrating during a romantic getaway, honeymoon or commitment ceremony at our hotel on Friends Lake, you can fly over the Glens Falls, Lake George area. Call 518-793-6342 or visit www.adirondackballoonflights.com.
Lake George Village
From miniature golf, to amusement parks, go-karts, lake cruises on beautiful 32-mile long Lake George , visit Lake George Village.
Saratoga Springs
The famous horse racing flat track is open through all of August, but the magnificent city of Saratoga is fun to visit year–round.
Bicycling
Is fantastic with miles and miles of low traffic scenic riding. Contact us for maps and good ideas for great biking routes near our Adirondack resort hotel.
Heritage and History
The history of the Adirondacks is as diverse as its geography. A battleground through three wars, the turf of loggers and miners, the vacation destination of Gilded Age magnates and home to two Winter Olympic Games, the depth and breadth of the region's heritage is only matched by its glorious scenery. You'll find forts, museums, historic homes and "Great Camps," excursion railroads and even sunken wrecks in the Adirondacks. Events ranging from Woodsmen's Field Days to the No-Octane Regatta to a French and Indian War Encampment bring history to life.
Exhibits, Museums and Galleries
The Adirondack Museum in Blue Mountain Lake is on the "not to be missed" list for our Adirondack hotel, but numerous options abound!
Downhill Skiing at Gore Mountain
A short 20 minute drive from The Fern Lodge Adirondack resort. Gore Mountain www.goremountain.com boasts 2100′ vertical, 11 lifts, 75 trails and 95% snowmaking, Gore is a premier ski area of the northeast and is opening a new face of the mountain "Burnt Ridge" with a new quad chair and 4 new trails. The North Creek Ski Bowl offers night skiing and tubing. Whiteface Mountain is 1 hour away and West Mountain is 45 minutes south. www.whiteface.com
Cross-Country Ski and Snowshoe
Facilities at Garnet Hill, Cunninghams Ski Barn, and others including unlimited acres access on state land.
Sledding
Enjoy sledding and tobogganing at nearby Dynamite Hill !
Snowmobiling
If you have your own machines join the North Warren Trailblazers at www.northernwarrentrailblazers.snowclubs.com for miles and miles of groomed trails… If you would like to rent "sleds" there are options for guided 1 and 2 hour trips for single or double riders. Explore both beautiful pine woods and/or open frozen lake terrain, and return to our luxury Adirondack hotel for the ultimate in relaxation. You can rent a "Machine" by-the-single" or "by-the-double" and enjoy a tour on nice wooded trails or out on frozen Loon Lake with candcsnowmobiletours.com 518-796-1308
Horse Drawn Sleighrides and Winter Horseback Riding
Enjoy a romantic "one horse open sleigh" for just the 2 of you or the larger sleigh for bigger groups. The winter horseback riding through the snowy fields and beautiful forest is very memorable as well. www.circlebranch.net
Scenic Flights
Take a helicopter flight over beautiful Lake George and The Adirondacks- to get a "birds eye view"! www.northcountryheliflight.com
Food & Drink Attractions
Check out our local "foodie" and "drinky" stops including ; Nettle Meadow Farm (www.nettlemeadow.com), Barkeater Chocolates (www.barkeaterchocolates.com), Paradox Brewery (www.paradoxbrewery.com), Adirondack Pub and Brewery (www.adkpub.com), Coopers Cave Ale Co (www.cooperscaveale.com), Davidson Brothers Brewery (www.davidsonbrothers.com), Oscars Smokehouse (www.oscarsadksmokehouse.com), Adirondack Winery (www.adirondackwinery.com) , Lake George Distilling (www.lakegeorgedistillingcompany.com) Co, and more!
Explore the Lake Placid Area
home to both the 1980 and 1932 Olympics. www.lakeplacid.com It's a beautiful one-hours drive north. Window shop down Main Street, stop for lunch at any number of great luncheon spots, go to the top of the ski jumps and watch the ski jumpers or aerial freestyle skiers practice or compete. Check out the luge or bobsledding going. For the adventurer, take a bobsled ride yourself….www.whiteface.com/facilities/mt-van-hoevenberg. Save room for a piece of pie at The Noonmark diner in Keene Valley on the way home.
Visit Our Other Properties:
The Alpine Lodge in North Creek, NY
The Alpine Lodge is a motel decorated in an Adirondack motif located in the quaint mountain town of North Creek – a 30 minute beautiful drive north of Lake George.
Our 15 rooms range from $159-239/couple/night. We have rooms with one king-size bed, two double beds, queens with a gas "woodstove", kings with a pull-out couch, and kings with pull-out couches, jacuzzi, and gas "woodstove".
There is one very luxurious 2-bedroom apartment with a full gourmet kitchen that is $495/night. All our rooms are non-smoking. The Lodge has a common "Great Room" for all the guests use and is perfect for a group "gathering area".
For more info visit www.adirondackalpinelodge.com or call us at (518) 251-2451
The Loft at the Remington in Chestertown, NY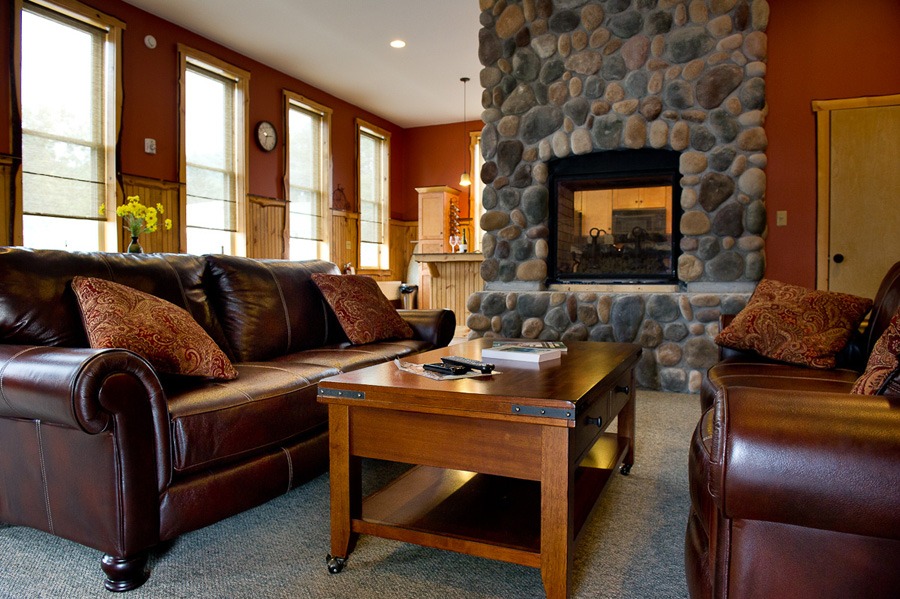 Our new intown Chestertown upstairs rental property is perfect for groups, couples or families (sleeps a maximum of 16)!
It has 4 very large bedrooms, each with a king-size bed and pull-out couch in the sitting area, flat screen tv, a good-size bathroom with walk-in shower, tiled floor and dual pedestal sinks. Common area for all guests' use consists of an open living room with double-sided fireplace, dining room, and Chef's gourmet kitchen. Weekly rental $1995, weekend $1495, Nightly $995.
For more info visit www.theloftattheremington.com  or call us at (518) 417-1757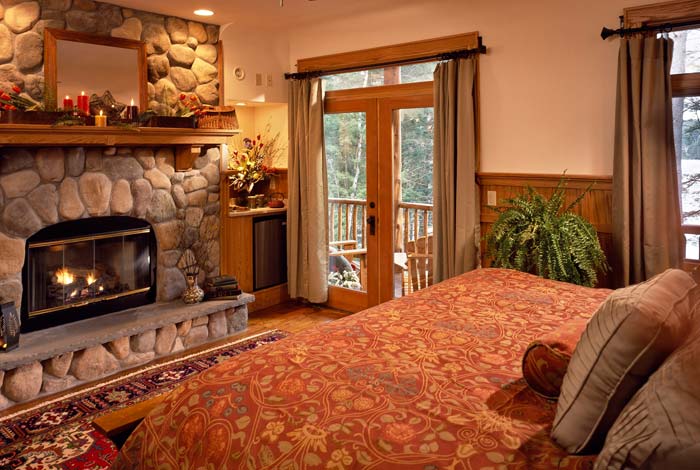 Guest Rooms & Rates
Our luxury Adirondack lodging includes a choice of five intimate guest rooms that are uncommonly comfortable – both rustic and elegant.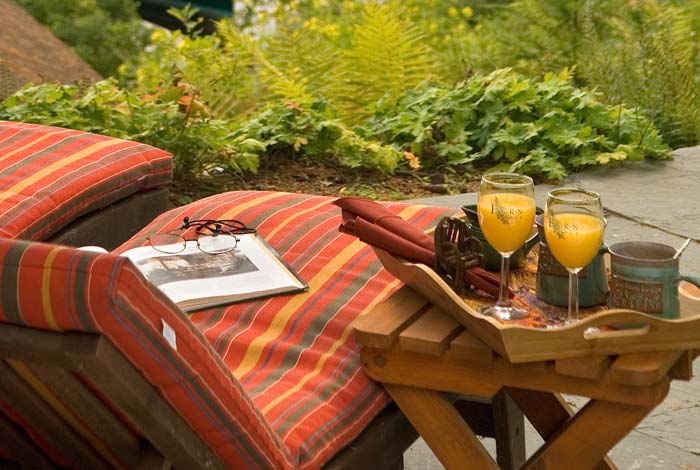 Rave Reviews
Read just a few of our many guest reviews. We are happy that our guests enjoy our Adirondack lodge as much as we do.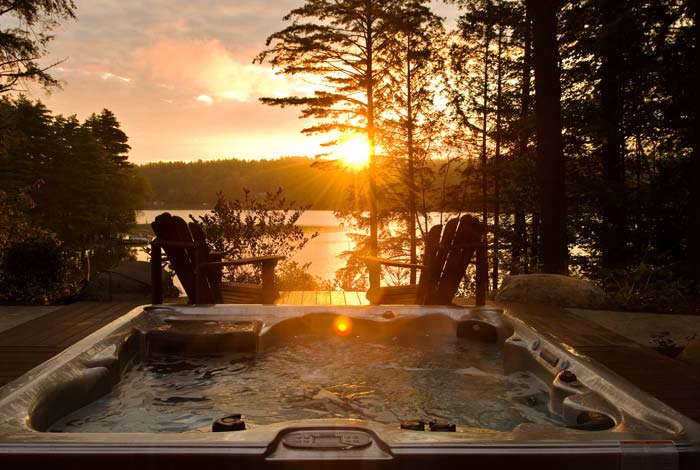 Summer / Fall Packages
Relax and enjoy Adirondack lakeside living this summer with the stunning beauty of the rustic surroundings.