Dining Near the Finest of Upstate NY Adirondack Hotels
For groups booking the entire Lodge (5 rooms), caterers, special themed dinners and wine tastings are available. Please inquire through The Fern Lodge if you are interested in this option to be sure we can accommodate the request.
Restaurant options within a close driving distance (5 minutes to ½ hour) of our Adirondack hotel.
* Please note: days open/closed can fluctuate from season to season. In general restaurants are open with 75% seating, and take out. Many have outdoor seating options. 
Chestertown/Brant Lake
 The Bullhouse* makes a great tableside "guac" and has a Southwestern-South American influenced menu. Main St Ice Cream* is the quintessential luncheon spot but they also serve an additional entrée or 2 in the evening. Be sure to save room for dessert! Friends Lake Inn *518-494-4751 is very close. They have a fine dining menu and great wine list in the historic main dining room and they offer a light menu in the new Bistro/Winebar called Birch Terrace. OP Fredericks has casual fare, burgers and such but also nice pasta, chicken and beef entrees. Good food and a nice bar in a nice casual setting.The Place  serves casual Italian (take-out only). The Panther Mountain House  is a bar in Chestertown with a good burger and sandwich menu. The "P-House" serves take out and late, and delivers pizza (on weekends)! The Silver Star (only summer-fall) and The Odd Duck offer casual dining. In Brant Lake, The Lazy Moose (only summer-fall) has great lunch as well as a garden and gift shop! Check out The Hub (only summer-fall)* for light eats, amazing beer bar and great live entertainment!
North Creek/Johnsburg
Marsha's serves both breakfast and lunch. Café Sarah* has lite breakfast options and great sandwiches and cappuccino.  Kevin and Nicki have a "pop-up" in Izzy's Cafe with excellent food. Chef Jake has a great menu that changes themes out of barVino on weekends. The Black Mountain Lodge Restaurant has recently re-opened. 
Garnet Hill has good casual dinner (go early for a walk around the property or a drink at the pub) . The Barking Spider is a great bar – and small bar menu! Basil and Wick's* has a nice bar, nice dinner menu and a great après ski selection of appetizers. The Inn on Gore has a nice convivial bar, bar food and casual fare. Beck's has a German-Alpine inspired atmosphere and menu. Be sure to check out the beer yurts! Look for the pizza shop called Hay Dayz !
Pottersville
Cafe Adirondack (year-round, check days open) 518-494-5800 is a funky, fun spot with an extensive menu and  good food.
Schroon Lake
Sticks and Stones*  (7 days- lots of outside seating) has great wood-fired pizza and lots of other great options! The Trailbreak at the north end of town is doing a great job as is Pitkins in the middle of town.
Olmstedville
The Owl at Twilight* (6 days – open May-October)* is another great "foodie" destination!
Warrensburg
 You must try The Bond 1786*** for excellent fine dining! This is formerly known as the Merrill Magee House. The owner and staff are from The Grist Mill which burned down this past winter. Guests really love The Pizza Shop and Tommy-Guns (both are Pizzerias) . Try our area Mexican Restaurant Ocho Cinco– awesome authentic Mexican and also-awesome Margaritas! Brunetto's (only summer-fall) has great food- and a lot of it! Lizzie Kaey'sserves lunch and dinner. For the ultimate hot dogs and Greek Salads, try New Way Lunch!
Bolton Landing
Enjoy walking in Bolton Landing on Lake George, a scenic 20 minute drive from our Adirondack resort. Bolton has a nice downtown shopping-restaurant-bar area to park and walk through; there is also a plethora of very good dining options. Beyond the Sea * – full fine dining menu with lots of options and great seafood, Fredericks – good food, nice variety. The open air deck is nice in the summer. Cate's Italian Garden – good Italian, and  Chateau on the Lake* (only summer-fall) for upscale dining at its finest. The Sagamore Hotel's, Club Grill (steak and grill fine dining) at the golf course and the main hotel's dining room La Bella Vita are both good options. It's beautiful to walk around the resort grounds- it's an island on Lake George- you drive over their bridge to get to it. Outside of Bolton is the Algonquin – right on the water. Great afternoon drink spot in the summer.
Diamond Point
The Inn at Erlowest* has excellent dining overlooking Lake George.
Hague
The Firehouse  (summer-fall only) nice view and good too!
* denotes Sharon and Greg's personal favorites – all highly recommended!
Lake George
In general, Lake George Village does not have any fine dining- a lot of casual fare and t-shirt/trinket shops, miniature golf, etc…  Long standing restaurants of note are The Log Jam which offers an incredible salad bar and Mario's.
* denotes Sharon and Greg's personal favorites – all highly recommended!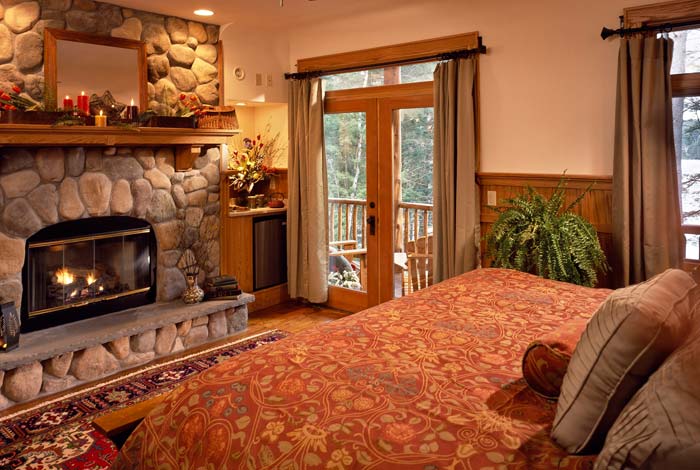 Guest Rooms & Rates
Our luxury Adirondack lodging includes a choice of five intimate guest rooms that are uncommonly comfortable – both rustic and elegant.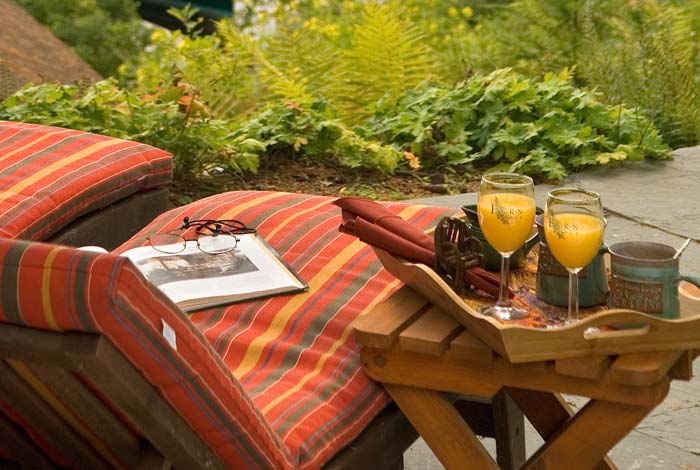 Rave Reviews
Read just a few of our many guest reviews. We are happy that our guests enjoy our Adirondack lodge as much as we do.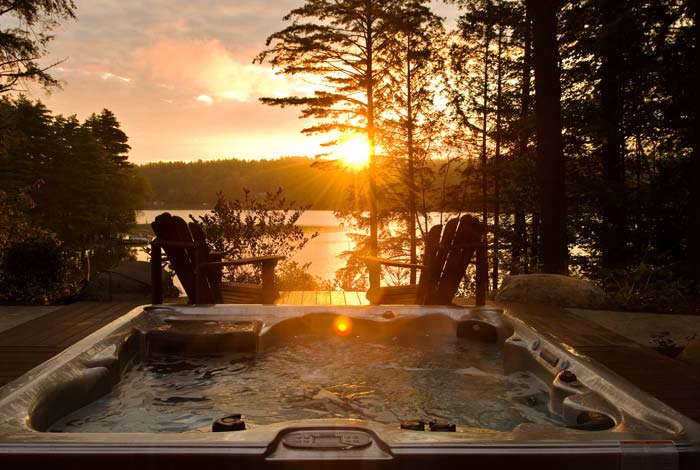 Summer / Fall Packages
Relax and enjoy Adirondack lakeside living this summer with the stunning beauty of the rustic surroundings.